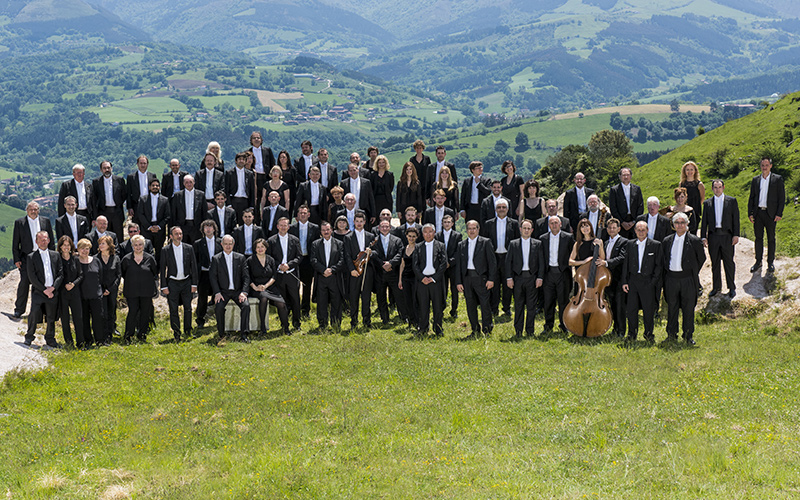 Dot Conductor concert-presentation
Museo Guggenheim Auditorio. 18:30 h.
This concert, organized in collaboration with the Museo Guggenheim Bilbao, will be the first to use the SIMMO (Simulation of the Music Movement) app, where musicians will be directed by a simulator on their cell phones instead of a human conductor. The app's creator, Josan Aramayo, will give a presentation prior to the concert.
Venue: Museum Auditorium
Time: 6:30 pm
Tickets: €4, €2 Members
En el marco del programa TopARTE del Museo Guggenheim Bilbao.
Celebración del primer concierto realizado a través de la aplicación SIMMO (SImulation of the Music Movement). Una aplicación con utilidades tanto en el campo educativo como interpretativo y que da lugar a un lenguaje artístico propio, único y novedoso, que implica un desarrollo teórico y tecnológico.
El creador de SIMMO es el ondarrés Josan Aramayo, formado en dirección de orquesta en Musikene y que ha desarrollado el sistema dentro del programa EKINTZAILE de la Sociedad Pública BEAZ de la Diputación Foral de Bizkaia. Ha sido subvencionado en 2015 y 2016 por la BFA y la SPRI.
¿Qué es SIMMO?
En palabras de Josan Aramayo:
"Para crear la idea de SIMMO he necesitado una investigación sobre el movimiento musical. Investigación  que acaba de publicarse en la revista acim de Málaga (http://acimalaga.com/archivos/191) bajo  el nombre de Música y Matemáticas. Defino el pulso musical con un modelo de movimiento y algoritmos matemáticos de tiempo.  
 
El resultado es un estilo, tendencia o actitud artística en torno a la interpretación simulada. Al igual que las fotografías de Spencer Tunick que utiliza el cuerpo desnudo como medio para desarrollar su expresión artística, utilizo la interpretación simulada para desarrollar mi propio lenguaje, acercando el concierto a las artes plásticas. La interpretación simulada o SIMMO se presenta como una búsqueda de nuevas posibilidades para la expresión, nuevas maneras de crear e interpretar. Mi intención es  desarrollar este lenguaje a través de las orquestas del mundo y explotar sus posibilidades.
 
SIMMO cambia el concepto de espacio. La transmisión de la interpretación musical se produce mediante la interpretación simulada, mediante guías de interpretación musical que previamente son diseñadas. La dirección se diseña, al igual que la composición, por primera vez se escribe, se graba, se comparte, se accede, se reproduce".
En estos enlaces se amplía la información sobre el funcionamiento de SIMMO – Dot Conductor:
https://www.youtube.com/watch?v=gnTMW59Ejz0
https://www.youtube.com/watch?v=RgySxMPI-pw&t=35s

Calendar of Events
---