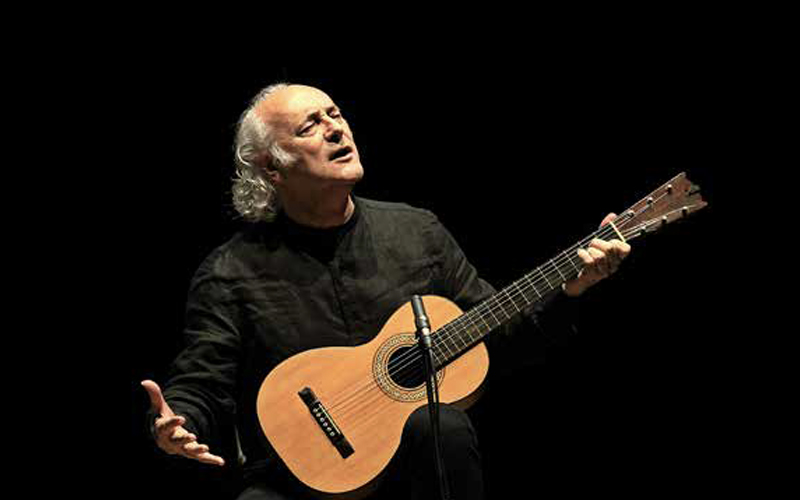 Cámara BOS 04
Euskalduna Palace. 19:30 h.
I
AMANCIO PRADA – LÍRICA MEDIEVAL
Romance del Conde Arnaldos (Anónimo).
TRES CANTIGAS GALEGO-PORTUGUESAS (s. XIII)
En Lisboa sobre lo mar (João Zorro).
Quand'eu vejo las ondas (Rui Fernández).
Lelia Doura (Pero Eanes).
AMANCIO PRADA
Canción de amor nº 2.
Labregos.
AMANCIO PRADA – MÍSTICOS
Ya toda me entregué y dí.
Oh llama de amor viva.
AMANCIO PRADA / GUSTAVO ADOLFO BÉCQUER
Cerraron sus ojos.
Espíritu sin nombre.
AMANCIO PRADA / FEDERICO GARCÍA LORCA
Ciudad encantada.
La guitarra.
AMANCIO PRADA / JUAN RAMÓN JIMÉNEZ
Los caminos de la tarde.
Alegra, titiritero.
AMANCIO PRADA / ROSALÍA DE CASTRO
Campanas de bastabales.
Paseniño, paseniño.
Corre o vento, o río pasa.
Adiós ríos, adiós fontes.
DATES
13

December 2021       Euskalduna Palace      19:30 h. Buy Tickets
Meet here all the advantages of being BOS subscriber
Amancio Prada.
Cantante
El trabajo musical de Amancio Prada (Dehesas, León, 1949) como compositor e intérprete ha tenido siempre una base literaria que, a lo largo de su discografía, ha ido conformando un recorrido antológico por la lírica peninsular, desde las Cantigas de los primeros trovadores galego-portugueses (Ss. XII y XIII), pasando por el Romancero, Juan del Enzina, Jorge Manrique, San Juan de la Cruz, Santa Teresa y Rosalía de Castro, hasta autores contemporáneos como Federico García Lorca, Juan Ramón Jiménez, María Zambrano, Álvaro Cunqueiro, Carmen Martín Gaite, Agustín García Calvo, Luis López Álvarez, Antonio Pereira y Juan Carlos Mestre.
Entre otros galardones, ha recibido la Medalla Castelao de Galicia (1995),  Premio Castilla y León de las Artes (2005), Grand Prix du Répertoire Sacem (París, 2008), Premio Tenco (San Remo, 2010) y la Medalla de Oro al Mérito en las Bellas Artes (2011), Premio da Cultura Galega (2019), Premio de Cultura de la Universidad de Sevilla (2020).
Discografía :
Vida e morte  (1974) Rosalía de Castro  (1975) Caravel de Caraveles  (1976) Cántico Espiritual  (1977) Canciones de amor y celda (1979) Lelia Doura (1980) Canciones y soliloquios (1983) De la mano del aire  (1984) Dulce vino de olvido (1985) Sonetos del Amor Oscuro (1986) A Dama e O Cabaleiro (1987) Navegando la noche (1988) Trovadores, Místicos y Románticos (1990) Emboscados (1994 Rosas a Rosalía (1997) 3 poetas en el Círculo ( 1998) De mar e terra (1999) Escrito Está (2001) Canciones del alma (2002) Sonetos y canciones de Federico García Lorca (2004) Hasta otro día, Chicho (2005) Rosalía siempre (2005) Huellas de Salamanca (2005) ZamorA (2006) Concierto de amor vivo (2007) Vida de artista. Canciones de Léo Ferré (2007) Coplas de Jorge Manrique a la muerte de su padre (2010) Del amor que quita el sueño (2011) Libre te quiero. Canciones de Agustín García Calvo. (2013) Federico García Lorca: Poeta en Galicia (2014) Resonancias de Rosalía ( 2014) La Voz Descalza de Teresa de Jesús (2015) Sonetos del amor oscuro, canciones y gacelas, de Federico García Lorca (2016) Yo con vosotros. Antonio Pereira (2017) Canciones de San Juan de la Cruz (2017) Cavalo Morto (2018) Gustavo Adolfo Bécquer (2020).

Calendar of Events
---